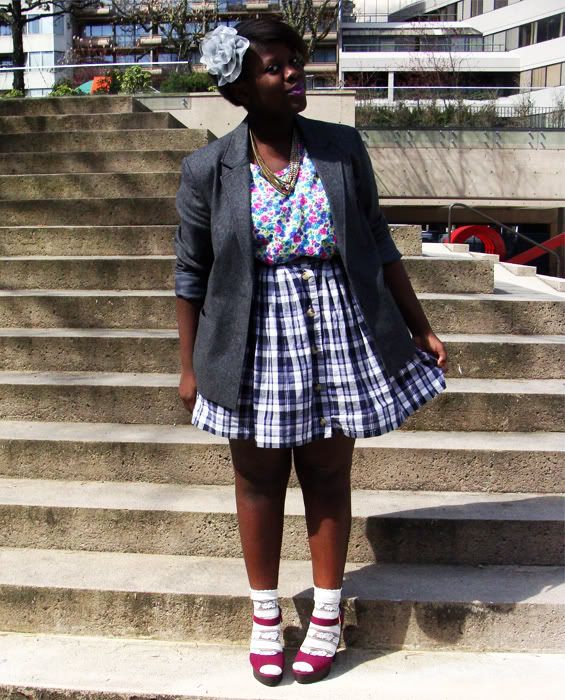 Hello! My name is Lydia, and write a blog of personal style called
that style is style
. I love color and vintage inspired style and my blog consists of dressed places, editorials and inspirations from around the web. I am very happy to be a guest posting on The Horse clothing (one of my daily reads) while Rebecca is enjoying Spain and Italy!
Though I'm quite envious that Rebecca is traveling, I'm enjoying being a tourist of sorts in my city. I'm from Vancouver, BC, Canada (home of the 2010 Winter Olympics!) I just moved to Vancouver about 9 mos ago. Living in a smaller town about an hour away, and I love urban life! One of my favorite pastimes is discovering new corners and hidden places in the city that I hadn't noticed before. My friend Marisa and I found a new photo place while wandering one day after school. The stairs make background cool, no?
My favorite parts of this series of photos are as follows: Marisa killer dress). Those shorts?!? And double collar blouse? Incredible. Pity that they are both from Thailand ... and B My NYC cosmetics lipstick). The color has just enough blue in it, which gave me a sulk. Exactly what I searched for this spring and under $ 5 too!
What are your predictions for spring and summer? Do you have any favorite spot "hidden" in your town?
Trench: urban renewal
Blazer: Thrifted
Floral blouse: Thrifted
Urban Outfitters Necklace:
Thrifted Skirt:
Socks: Urban Outfitters
Shoes:
Queen of the catwalk heels c/o Modcloth
Flower: Claire's veil