Hi everyone! This is Emily from
It girl Rag Doll
, glad to be filling in for Rebecca while she is outside Europe its wonderful journey. Don't blame her for not wanting to blog live while she is away, sometimes I struggle with that mentality "I try to document this moment with my camera, or should I just live it fully and have memory?" And as I'm sure will be taking pictures as well, you picked the right girl!
So, back to my dress, I must say the maxi, long skirt look has got to be my favorite! I wear skirts for a long time, and I'm happy to see in style now. A long flowing skirt of any length, any print hs got to be one of the things easier to find at the thrift store. When I was in high school I went crazy skirt, always on the look out for something soft and flowery. Then I would look for an elastic waist and wear it at my hips. MY HIPS! What a stupid girl. Then one day I discovered my life and never returned! I have a bit of a short torso, legs, but this is for me to wear high tops clipped and does things without it looking like I'm wearing a bra top.
This top I thrifted in last spring, has the best texture to it, is sort of a slinky, but super thick. I love the square neckline with small nubs, kind of like a fake. The belt has gotten to this small shop thrift Church I used to frequent a lot back in high school. Its super 60 and I like the color, and earlier today I couldn't seem to pair it with anything. But then this type of dress was coming together in the blues and grays and it was the perfect match! The skirt is thrifted as well, it's funny cause the last time I wore this skirt was also
the last time
I saw Rebecca in New York for fashion week. My shoes are Miu Miu which I had for sale super super by DSW shoe shop-as he was out of business a few years ago. And my sunnies ...I can't remember, but are probably from a thrifted of yard sale.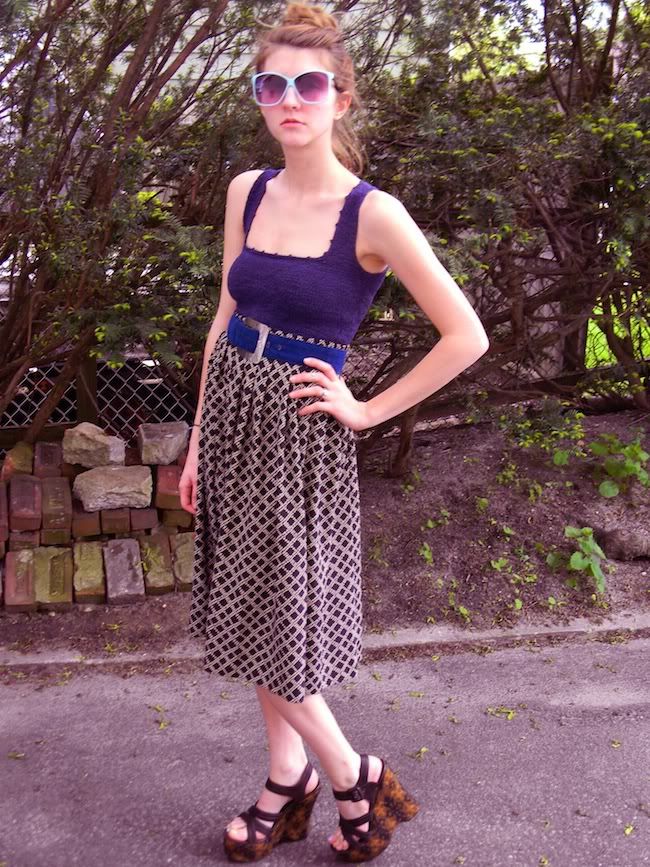 Rebecca, thanks for having me on your blog! I hope you all enjoyed reading!
-Emily;
, Rag Doll Girl